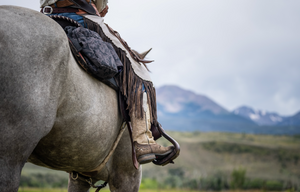 Essential Boots For Every Cowgirl
Lacy Boots®  are specifically designed to incorporate riding boots with top of the line comfort and protection.  Our performance tall boots feature XRD® Extreme Impact Protection Technology, used in the shin area of our boots to give you the maximum protection from impact to your shins.   The most advanced, wearable impact protection technology available to protect your shins from hits. 
Let your equipment take the hit,  not your shins!!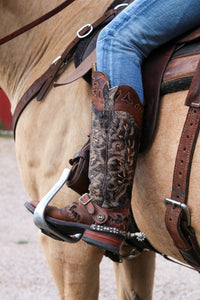 Business Spotlight
Meet Healthy Leather
Healthy Leather, a company steeped in Colorado's legacy, was born over 45 years ago through the vision and dedication of Jen Knox and her late husband Bob. As devoted career horse professionals, they confronted the daily chore of cleaning and conditioning substantial amounts of leather. Their pursuit to find a cleaner and conditioner that didn't leave leather greasy, oily, or wax-laden led them to create their one-step leather care product.

For decades, Healthy Leather remained a well-kept secret, shared only amongst their closest family, friends and coworkers. But in 2020, a new chapter began when close family friend and fellow career horseperson Jill Brennan McConaughy found themselves at a crossroads, transitioning away from the physical side of the horse industry. With their combined skills and shared passion for leather care, they embarked on a transformative journey.

Jen and Jill have catapulted Healthy Leather from Colorado's hidden gem to one of the most talked about and trending products on the market. The results speak for themselves, living up to the buss and excitement that surrounds Healthy Leather.

Healthy Leather's consistent growth has been achieved by actively engaging in networking, benefiting from mentorships, and receiving invaluable support from fellow entrepreneurs and experienced professionals. An overarching goal of Healthy Leather is to continue to pursue further collaborative opportunities and innovative partners, aiming to gain firsthand knowledge and insights from leaders in their respective fields.
Shop here: https://www.healthyleather.com
Testimonials
So proud to represent these ladies and the amazing boots they have created. If you haven't tried on a pair of these boots, you're missing out! I love the pair I have. Comfortable and my shins appreciate them (yes I've tested them out already). If you're looking at getting yourself a pair you won't regret it!

Randee Prindle. Professional Trainer/Rider
I struggle with boots holding up to hard work, water and everyday use. I have been very impressed with these boots! In my opinion, worth every dime! I won't wear anything else from here on out!

Laci S. Verified Buyer
I love these boots so much! They are built so well and are so comfortable, I felt like I was wearing slippers the first day I had them! I have already worn them several times and they never get old. They are gorgeous, comfy and can sustain the life of the cowgirl and turn heads all at the same time! Worth every penny.

Kailee E. Verified Buyer